TWS is a professional trading platform which provides access to more than 100 markets in Europe, Asia and America.



Username: pdemo / Pass: demouser


Access to global financial markets at most competitive trading conditions!
Get the best execution of your orders, by the IB's SmartRoutingTM technology!
IB SmartRoutingSM is designed to search for the best price available at the time of your order, and to route and re-route all or parts of your order to achieve optimal execution.
Integrated approach which makes it easy to trade global products on multiple exchanges and assets denominated in multiple currencies all from a single account!
With PaperTrader, which allows traders to test the full range of TWS trading facilities in a simulated environment using real market conditions.
With mobile solutions for Android, iOS, BlackBerry, MobileTrader.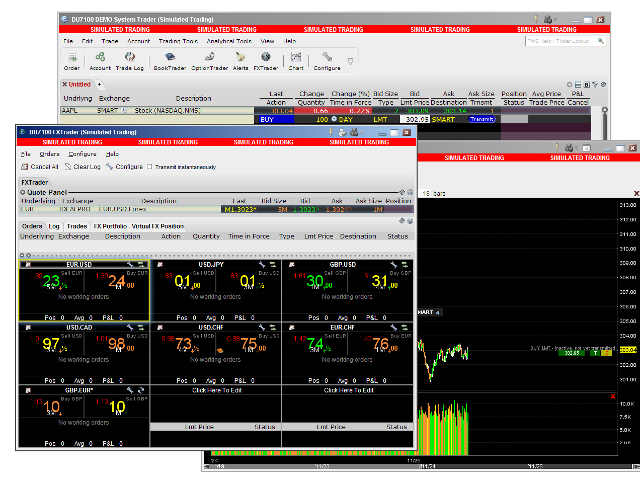 Example screenshot of Trader Workstation for illustrative purposes only
Main Advantages:
You may trade in all financial instruments – stocks, options, futures, options on futures, ETF, warranties, indices, bonds, funds and currencies.
Supports more than 50 types of orders and API functionality.
Offers the following professional trading instruments:
BookTrader
OptionTrader
BasketTrader
ScaleTrader algo
Integrated Stock Window
FXTrader
SpreadTrader
ChartTrader
Accumulate/Distribute algo
In addition, the specialised Ideal Pro application provides you with:
A direct access to the Forex Interbank Market – i.e.: the actual quotes of the thirteen largest FX dealers worldwide.
An ECN market structure – i.e.: should you wish so, you may select with whom to trade specifically: another trader, liquidity provider or a certain bank.
A display which allows trading in one and the same window spot forex, forex futures, forex options, as well as stocks and bonds.
Instruments to analyse:
Risk management - Risk Navigator
Comprehensive fundamental analysis
Technical analysis – charts, news and market scanners
Reuters Fundamentals





Username: pdemo / Pass: demouser